14 Feb

Acute need to address youth issues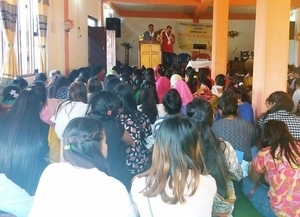 It is a privilege to serve the poor and marginalised. The last four months of serving in partnership with the local church and community has provided me tremendous opportunities for sharing Christ in different parts of Nepal.
It was wonderful to see more than 170 young people and pastors from 14 local churches participating in a conference on "Youth & Addiction" in Makawanpur in October.
The speakers at the conference, AsiaCMS South Asia coordinator Stephen Edison and co-mission partner Bhibin Shakya, gave challenging messages based on the theme.
Stephen shared from Lamentations 3:27, "It is good for a man to bear the yoke while he is young." He emphasised the need to identify God's call at the time of youth. When he shared his testimony, young people were excited and encouraged to follow God's way and His will.
Bhibin spoke from Psalm 119:9, "How can a young man keep his way pure…. by God's word." He expounded on the destructive nature of youth addiction and how to overcome it. He also spoke from 1 Timothy 4:12 emphasising the need for youth to be exemplary in conduct, in faith and in purity.
The participants were also educated on the perils of drug addiction to the family, society and personal life. Drama and games were included for greater impact. Some of the youth leaders and pastors testified that the conference had impressed upon them the great need for such education to be delivered at the church level.
"Normally, we focus on only evangelism and church planting and don't care about youth issues as they are a pillar of the church," said senior pastor Man Bahadur Pakhrin.
Please pray for staff and volunteers working at the borders against human trafficking and for GSC ministries which have been trying to address national issues.
— Bhibin Shakya, GCS/NCF Nepal, Kathmandu