11 Oct

God's miracle: Kevin Daniel Aryal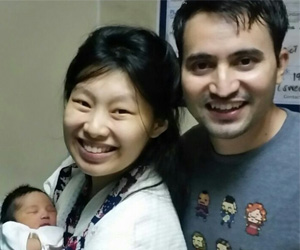 By Kumar & Kats Aryal
The expected due date was Sept 21, but we rushed to the hospital on Sept 12 because Kats' water discharge started that morning. She was immediately admitted at the High Risk Pregnancy Unit at St Luke's Hospital at Quezon City at 10am.
When we reached the hospital, the opening was only 1cm so they had to give her IV and other medicines to induce labour since the water discharge had started already. The doctor said that we would have to wait until the evening for the opening to reach 10cm, if not she would have to go through Caesarean Section.
We were praying that it would be a normal delivery and we witnessed God's miracle in that High Risk Pregnancy Unit. The opening was 6cm by 7pm and the doctor said let's wait for another hour. At 8pm it was 10cm already so she was rushed to the delivery room at 8.30pm and Kevin Daniel came out at 8.43pm.
We praise God for all His miracles that He has done throughout the pregnancy and on the delivery day. Indeed our God is so faithful to hear our prayers and answer them in His perfect time. A few weeks before delivery, the baby had irregular heartbeat, which was clearly seen on several scans by various doctors. We continued to pray that the baby's heartbeat would be normal.
And God did another miracle. According to the paediatric cardiologist we visited last week, there is no irregular heartbeat anymore. The baby's heartbeat is normal, praise God! Until the last minute before getting discharged from the hospital, we were trusting God for His provision for the hospital and medical bills. And again, God was faithful in providing the exact amount we needed for the bills. Praise God!
Kumar & Kathryn Ann Aryal are AsiaCMS co-mission partners in Manila