30 May

Thumbs-up for 7th Lausanne international conference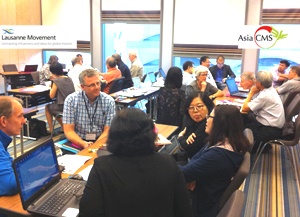 The 7th Lausanne International Researchers' Conference has been successfully staged in Kuala Lumpur with the participation of about 60 delegates from all five continents.
The five-day conference, which ended on Thursday, also saw the international delegates participating in an interfaith dialogue during a visit to a religious study centre in Petaling Jaya.
AsiaCMS executive director Dr Tan Kang San said it was a privilege for AsiaCMS to host the conference, which was held in Malaysia for the first time.
"We are pleased to have the international researchers, theological educators and leaders to share their research projects and resources," he said.
As part of the conference, AsiaCMS organised a track on "Collaboration in Mission Training" whereby seven papers representing case studies on models of training from Kenya on Integral Mission, Chinese Mission Movements, Brazilian Baptist Mission, Nepali Emerging Mission Movements, and Asian Graduate School of Theology were presented.
Kang San said the papers from these workshops will be published for wider dissemination as part of the third book in a series on mission resources for the church.
Debbie Loh of the Community Excel Services said the AsiaCMS seminar was very professionally conducted and the topics of discussion were pertinent and practical.
"I have benefited very much, as the audience were practitioners, and they were able to input real examples that I was able to learn from," said Debbie, an advocacy and communications executive.
She was particularly impressed by the presentations of Rev Mark Oxbrow, the International Director of Faith2Share, UK, and Rev Dennis Tongoi, the International Director of CMS Africa.
"Oxbrow's paper on collaboration in mission and Tongoi's on missional approach were good as they matched the theories to something workable, and put theology into the methodology," she added.
Another participant, Dr Rudolf Mak, said the seminar was generally well conducted but its focus was rather broad and the participants came from  diverse backgrounds.
Dr Mak, the Director of Chinese Ministries for US Center for World Mission, himself presented a paper entitled Chinese Mission Training for the Emerging Taskforce.