15 Mar

Pastoral care in times of despair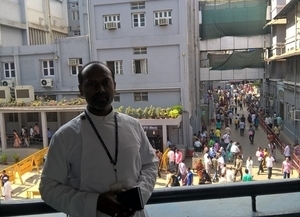 Rev. Jim Paul is a chaplain at Christian Medical College and Hospital (CMC) in Tamil Nadu, India.
His ministry of pastoral care to terminally ill patients also extends to that of their family members who suffer with them:
Namitha is only 10 months old. When she was five months old, her health deteriorated and she was diagnosed with neurological complications. She was admitted to the Pediatric Intensive Care Unit (PICU). She and her parents were previously based in Dubai due to work. They now reside closer to home in Tamil Nadu and have shifted her to CMC for treatment.
It has been four months since CMC received Namitha into their care. She is now on artificial life support. I had a meeting with Namitha's grandmother just before Christmas at the cafeteria. She looked very disappointed when i asked her about Namitha's health status.
"Our family spent more than one crore (ten million) Indian Rupees for her treatment in the last few months. We even sold our car in order to pay for subsequent costs of sustaining her. We cannot bear it any more. We requested for the doctors to stop the treatment by ending her life support but they refused to do so as it was against medical ethics. We wait for Namitha's return…Kindly pray for us, Reverend."
These are times when all the money in the world cannot meet our heartfelt cries for healing. It is only in Thy grace we hope.
Let us remember the family in our prayers.
— Rev. Jim M. R. Paul, Co-Mission Partner of AsiaCMS.