25 Sep

God in the midst of suffering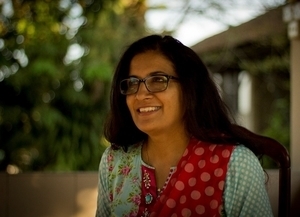 Written by Terence Lee
The sudden and tragic death of three family members; being married off to a man not of her choosing; caring for her sister as she slowly faded and finally being unwelcomed in her own home. Through it all, Anila still says "God never leaves us in the time of troubles, in tough times or in problems, but He gives us more strength that I feel during all these problems or hard times."
After graduating from secondary school, Anila had started working as a teaching assistant at a local primary school.
"14 November, 2001. The very worst day of my life." It started as an uneventful day by all accounts. She went to work as she always did; taught some classes and came home. Everything seemed normal. But when Anila returned home, something about the house felt wrong. The lights were off, the doors were locked and there was no one home.
Perplexed, she asked her neighbour whether they knew where her father, who would normally be home, had gone. They invited her in, bid her to stay but did not say more. Alarmed by their strange behaviour, Anila tried to call her father, at which point the neighbours broke the news to her.
Anila's mother, sister and new born niece had been in a car accident. Her sister died at the scene and her mother was currently unconscious at the hospital. Her father was at the hospital now.
"We were just shouting and crying; everyone was crying. We were just surprised and we just couldn't understand anything; what happened? How did it happen?" recalls Anila bitterly. She had seen them that morning, said hello and waved them good bye, now suddenly, a few hours later they were gone. Replaced by three coffins.
A crowd had gathered at her home by the time she got back, all clamouring to see the dead bodies than to mourn. In the midst of the onslaught of people, Anila and her family struggled to come to grips with what happened and find time to mourn.
Four months later, feeling responsible for his son in law's loss of wife and baby daughter, Anila's father offered his second daughter in marriage as compensation. In the same year that Anila lost her mother, sister and niece, she became married to her brother in law.
Feeling upset and perhaps guilty, Anila's father asked her to move to Karachi with her now husband and limit her visits home to once a year. He only lifted that ban when Anila's remaining sister became too weak to look after herself, due to a heart disease, and needed someone to care for her.
After the accident in 2001, Anila's sister died in 2004. Followed finally by her father in 2009.
It would be very understandable for anyone to feel angry, hopeless and abandoned in the face of such a string of inexplicable suffering and hardship. To my surprise, when asked about it, Anila simply replied, "[God] is with me, He never leaves me, in each and every time, whether a small thing happens or whether there is big thing, He is with me, anything, anytime… My experience is, hard times are not there to make you weak, but hard times are there to make you strong. So these problems make me stronger, and stronger, and stronger."
She lives out this belief, running a faith-based rehabilitation centre for addicts marginalised by the community in Karachi. Commissioned by the Anglican Diocese in Pakistan, she and her husband serve and help up to 10 patients at a time, providing for their physical needs, praying with them, counselling them and helping them break free from the destructive cycle of addiction. In fact, she would say that it is because of the pain and suffering in her past that she is able to be strong and empathise with those who are suffering.
Prayer requests:
Pray for the country of Pakistan, for the government and ruling bodies
Pray for those gripped in the cycles of addiction, pray that they will find freedom in Christ
Pray for Anila and her family, pray that they will find strength in the Lord and protection from the world and the enemy
Anila recently participated in Asia Gateway Training 2017, a month-long course organised by AsiaCMS in collaboration with Seminari Theoloji Malaysia, the Anglican Diocese of West Malaysia, the Methodist Church in Malaysia, Operation Mobilisation, Overseas Missionary Fellowship, Interserve, and Serving in Mission.