31 Oct

Everyday grace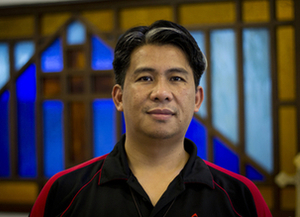 Written by Terence Lee
Meeting Lendehl Rey Sallidao for the first time, you'd think him an unassuming character, light hearted and always quick with a quip. You would see no trace of the pain and the difficulty that he had endured growing up.
I met Lendehl one afternoon, sitting across the pews of a small Anglican chapel set in the alcove of a seminary's canteen. Listening to him, the thing that struck me most was not the difficulties he faces in ministry (for it is difficult), nor how high and fantastic a cause he is part of (it is a fantastic cause indeed), but how he speaks of the work that he is doing as he would speak of the weather to the passer by. It is as though he's lived and breathed the grace of God for so long, what is to others some distant aspiration to aim for is but everyday life for him.
Hi Lendehl, can you tell us a bit about yourself please?
My name is Landehl Rey Sallidao. I'm an Anglican priest. I got ordained in 2014. I'm married with four children; three boys and a baby girl. I am from the Episcopal Diocese of Central Philippines. At the same time, I am in charge of a parish now with three mission stations. My role is that of the Integral Mission Officer within the dioceses, in charge of the mission in pursuit of the five marks of mission.
Sounds fantastic! How is that going so far?
I find it challenging and exciting at the same time. We started by going into the communities to develop a relationship with them. [What we found was] many of the mothers are jobless, they didn't know what to do, they just gamble. They don't know what to do with children. So we started to speak to them or find small spaces for their children to play. It started to become a structured kids club and we were able to train some of the mothers to run this club as well.
At the moment, we are implementing Child Focused Community Development (CFCD), so we piloted that in two communities in the parish. So, what we do is we release the mums or the dads and then we resource them in such a way that they would be able to start, run and sustain kids ministries.
What gives you this passion and excitement to serve the children and the urban poor?
I believe that we respond to human needs by loving service. But it has to be centred on a child, that's our bias, child focused community. We did the same in another community. Of course there are challenges that we encounter and it's very slow, it takes patience, you need to be resilient whenever there are problems that arise, even discouragement. You need to keep going because that's the dynamics in the urban poor community. They are broken, they are hurting, they see themselves very lowly, there's a huge amount of hopelessness, that's what we're responding to.
You mentioned some of the challenges in ministering to the urban poor. Can you tell me a bit more?
The challenges in the first goal in the parish would be the people themselves. Because they are not used to be mission driven. And of course, there will be resistance, because this is a change. This is a total church, a metamorphosis, a turning around. That's a challenge really, a strong resistance because they are not used to changes.
And then the other thing would be the financial difficulty of running a programme for the diocese.
But we are believers and Jesus said "Seek ye first the kingdom, and all these things shall be added to you." And it is true, I've seen it. Sometimes we don't even know where to get the salary of people, yet month after month, after month, it comes.
How can we pray for you?
Please pray for my congregation:  Pray for the hearts of the people in the three parishes that they would be turned around to mirror God's heart for serving the poor who are on their door step. Pray for me and my family also:  We have a very busy schedule. Please pray that we would be healthy and find time to spend together. Finally pray for the country of Philippines:  The government has a policy of cracking down on drugs; this has led to a lot of extra judiciary killings. Just last week, two of our parishioners were killed in a gun fight.
Lendehl recently participated in Asia Gateway Training 2017, a month-long course organised by AsiaCMS in collaboration with Seminari Theoloji Malaysia, the Anglican Diocese of West Malaysia, the Methodist Church in Malaysia, Operation Mobilisation, Overseas Missionary Fellowship, Interserve, and Serving in Mission.