08 Aug

Drug addicts find true freedom in Christ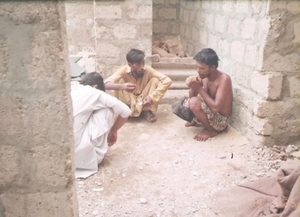 "So if the Son sets you free, you will be free indeed."
Mahmoud (not his real name) checked into a drug rehabilitation centre in Pakistan not knowing who "the Son" is, let alone John 8:36. But 14 months later, he walked out of the centre truly a free man – with Jesus in his heart and a fresh start in life.
This is the amazing story of Mahmoud, as told to AsiaCMS co-mission partner Anthony (not his real name), whose ministry includes counselling drug addicts.
Mahmoud was addicted to heroin and alcohol for 16 years. He had tried many types of medications and sought treatment from doctors. But he found it impossible to kick his addiction.
"At one stage he took 2.5 grams of heroin daily, and his weight plunged from 64kg to 38kg," said Anthony.
Mahmoud even lost his mother because of his own battle with drug addiction. She was bed-ridden and he couldn't take care of her.
Anthony said that when Mahmoud started the 14-month programme he was so weak that he thought he might die during the detoxification period. But when he began going to the chapel twice a day he started believing that there is God and that there is hope.
"My god was only drugs, but there is the living God. He provided this centre as a resource," Mahmoud said.
Mahmoud was a Muslim but he "found" Jesus and has accepted him as his Lord and Saviour. After being successfully rehabilitated, Mahmoud moved to the United States to live with his uncle. He is now working with a food chain.
Anthony said faith-based drug rehabilitation using the church platform is unique and challenging in a Muslim society. He is thankful to God for the opportunity to attend a cross-cultural mission training programme in Malaysia in June.
"This training is very helpful for my work and for the integral mission which is the main part of our drug rehabilitation with different communities like Hindus, Muslims, and many others," Anthony said.
Please pray for wisdom and strength for Anthony, the staff and volunteers of the rehabilitation centre.
— Pakistan, Co-MP with AsiaCMS