27 Feb

Building a foundation of faith in rural areas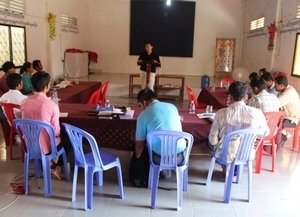 On 3-4 November 2016, Shalom School of Ministries organised an extension programme known as "Building a Foundation for Faith."
The programme was conducted with the primary intention of equipping pastors and church leaders from rural and difficult to access areas in the subjects of "biblical vocation" and "bible overview."
14 people participated in this programme. The sessions were facilitated in a way that encouraged group work and learning from each other's sharing on their respective ministry experiences. We praise God for this opportunity of meaningful and constructive learning, together.
We are aiming to facilitate this programme twice a year in ten provinces throughout Cambodia.
Thank you so much for your partnership with us through AsiaCMS.
Do continue to pray for Shalom School of Ministries as we make a new start to 2017 in the month of February especially since three new groups for the "Faith Building Programme" would have commenced by then.
Pray for each and every pastor/leader of the ministry that they will be enabled, refreshed, and strengthened to continue in this vocation for the kingdom of God.
— Chhinho Saing, Shalom Mission Cambodia.