25 Oct

A mother's prayer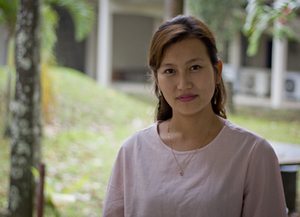 Written by Terence Lee
Early each morning, as the sun slowly climbs over the hills of Nagaland, India, Chuba would hear a gentle murmur from the room next door, through the thin walls of the house. If she listened closely, she'd make out the words as Asangla, her mother, quietly praying for her and her two siblings.
Asangla married her husband when she was just 19 years old, they spent six loving years together. But a year after their youngest daughter, Chuba, was born her husband passed away, leaving Asangla widowed and a single parent to one boy and two girls.
All her dreams, hopes and plans for the future were suddenly taken from her, she had hoped to go to university, have a career and build a family. In place of that, she faced the stark reality of being thrust into the position of sole carer and provider to a young family. It was tempting to leave the children in the care of her parents and pursue her own life, but instead she thought to herself, "Let me stop studying. I will look after my children. Since I am alone, I have three kids, what I cannot achieve, they will achieve on behalf of me."
From that day, 28 years ago, Asangla has woken up early each morning, sat by her bed and prayed for her children. She prayed for their daily needs, their wellbeing and that one of her children would serve the Lord. In those years, there were many difficult times when it seemed impossible to go one more day, but each morning she would return to that bed side and pray for herself and her children. In those prayers, God gave her the strength and will to carry on.
When Chuba was growing up, she had always felt drawn towards her teachers. She remembers imitating them with her friends during break time and always held this desire to teach and educate.
"Teaching is one of my passions that I always look for and I always looked up to teachers," reflects Chuba. Today, after seven years of study, with two degrees in Divinity and Theology under her belt, she embarks on her new role as a lecturer and dean of girls at a Bible College in Nagaland.
It's not been an easy path. Though previously active and healthy, Chuba had become very ill whilst studying for her first degree. So much so, there was doubt whether she'd be able to finish. In prayer and in faith, she persevered through and now reflects back on that period, and says: "through that I was able to know more of God's love. And because of that problem that I've already gone through, I can help and I can counsel."
Chuba shares, "It is only through her [mother's] prayer that we could have achieved this much, this far. What I am today is because of her prayer and because of her faith in God." This coming year will be a challenge for Chuba as she starts to lecture on Christian Ethics and Religion, as well as looking after the wellbeing of 69 girls living on campus. But despite all that, she is confident. Confident that her mother's prayers will support and uphold her and confident that her heavenly Father, who is faithful, will not let her down.
"I know I cannot be like my mum… she has sacrificed a lot, it is inexpressible, [but] I really thank God that, through my life, my mum's prayer is answered. Today I am confident to say that God really works in all things. As Paul says in the book of 2 Corinthians, 'My grace is sufficient for you, for power is made perfect in weakness.'"
Continue to pray for our brothers and sisters called by God in His ministry around the world.
Please pray for Chuba:
Pray for wisdom and discernment as she prepares for her lectures in the Bible College
Pray against stress and tiredness as Chuba adapts to the teaching life
Pray that students from the Bible College would learn more of the character of God in their studies
Chuba recently participated in Asia Gateway Training 2017, a month-long course organised by AsiaCMS in collaboration with Seminari Theoloji Malaysia, the Anglican Diocese of West Malaysia, the Methodist Church in Malaysia, Operation Mobilisation, Overseas Missionary Fellowship, Interserve, and Serving in Mission.