18 Nov

Standing in the gap for migrants in Africa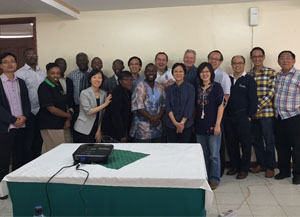 "Do not oppress a foreigner; you yourselves know how it feels to be foreigners, because you were foreigners in Egypt." – Exodus 23:9
Being in a foreign land with an alien culture thousands of miles from home can be an intimidating experience. Throw in some unwelcoming locals, or worse still, unjust officials, and the adopted world of the immigrants will be turned topsy-turvy.
This is the world of the estimated one million Chinese nationals living in Africa.

A recent consultation forum held in Nairobi from Sept 16 to 18 was told how some of the Chinese living in Africa have had to struggle with culture shock, language barriers and xenophobia. The less fortunate ones even had to endure harassment by some corrupt police officers who carried out arbitrary arrests.
It is a picture which grieves the delegates at the consultation from CMS-Africa, OMF, AsiaCMS, CMS UK, NZCMS, Faith2Share, Church Army Africa, the Anglican Church of South East Asia and Kenya and other organisations.
To lay a foundation for Africans engaging with the Chinese in their continent, Tan Kang San, the Executive Director of AsiaCMS, gave presentations and facilitated a discussion on "The Past, Present and Future of the Chinese in Africa" and "Reaching the Chinese in Africa: Theology and Missiology".
Admittedly, the African Church has not been keen on ministering to Chinese in Africa. But one outstanding exception is Parklands Baptist Church in Nairobi, which has integrated Chinese people into its church and has a prison ministry among Chinese inmates.
But there is hope yet. This first ever consultation forum on how to engage better with the ever increasing population of Chinese people in Africa has birthed a new network.
The new initiatives include prayer groups, exchange programmes among African and Asian Chinese churches, a discipleship manual on the theology of immigration and an orientation programme for Chinese arriving for the first time in Africa.
The forum and network marked an important step forward in enhancing Chinese-African relations.
A delegate said it was a fruitful time of engaging with one another on God's new work in Africa.
"We are praying that something beautiful will grow from this consultation," he said.