19 Oct

SACYN 2015: Building for the future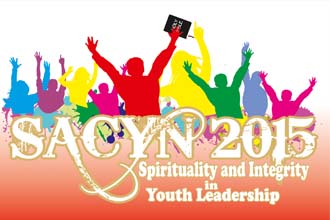 SACYN 2015, a reflective-planning gathering, is aimed at building on the three years of training module which was completed in 2014.
Themed 'Spirituality and Integrity in Youth Leadership', it is being held at the Gandhi Peace Foundation, New Delhi, India, from Oct 16 to Oct 20.
It is focusing on a reflection on the journey of SACYN for the past 12 years, as well as plan for the future in the light of those reflections. The reflective-planning sessions will be complemented with serious interactive sessions on Christian leadership, facilitated by senior church and mission leaders.
The local hosts of the gathering are the India Peace Centre (IPC), New Delhi. IPC is an autonomous body of the National Council of Churches in India.
The purpose of this year's meeting is conceptualised to be threefold:
Review and evaluation of the past 12 years of SACYN;
Strategic Planning for the coming six years and detailed planning for SACYN 2016 & 2017; and
Learning on Christian leadership.
The meeting comprises Bible reflections, sessions under the main theme, reflections from countries, sharing views on where and how SACYN should go forward, and planning sessions. The meeting will also deliberate on strategic planning towards achieving self-sufficiency by 2020.
The participants include the key youth leaders from the partner churches as well as the youth representatives from partners.
SACYN 2015 expects to produce multiple outcomes, including to initiate local mission initiatives by youth groups of churches; to motivate individuals to make commitments for mission services; to facilitate exchange visits; to inspire transformed values and lifestyles among the young leaders; to instil a deeper understanding and thinking about Christian mission of peace and reconciliation; to develop relationships formed across national, regional, ethnic, social and denominational barriers and cross-cultural communication; and to envision and equip the emerging generation of church leaders in the region for effective leadership.
It is also aimed at facilitating South Asian Christian youths to have connections with church and mission at local, regional and global levels; and making the youths rightly related as well as committed to both the local and broader community of which they are part of.
It will also provide a space for interacting and understanding various challenges faced by Christian youths in the region, and also contribute to developing a generation of Christian children and youths.
See also: SACYN TIMES Vol 6