24 Oct

Praise God for urban care ministry in Indonesia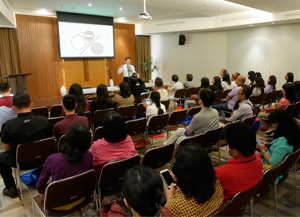 Praise be to God for His awesome blessings. An Indonesian non-governmental organisation (NGO) which is a partner of AsiaCMS recently celebrated its 6th anniversary.
More than100 participants from churches, organisations and the professional group attended the celebration themed "City on the Hill".
Some of them committed themselves to support the empowerment programme at low-cost housing projects which the Jakarta government has entrusted to the NGO to manage.
We are very happy to see that the churches are excited to be involved in the empowerment programme. The professional group committed themselves to help in developing small business groups.
In the third quarter, we also held mobilisation meetings with churches in some cities in Surabaya (East Java), Pontianak (West Kalimantan), Semarang (Central Java) and Bali.
Please pray that God will draw more people to collaborate with us in urban ministry.
AsiaCMS co-mission partner RP is executive director of the Jakarta-based NGO