09 Aug

Overcoming the taboo of disability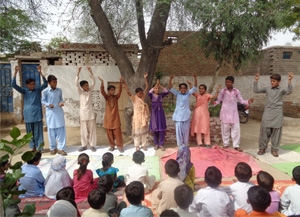 One of the most common taboos in Pakistani society is "disability". Disabled people carry a stigma which can dog them for life.
A village in Khowaja Goth, rural Sindh, chants this same sad story of the scars that disabled people, especially children, have been bearing since birth. The lame or mentally retarded children have one and only possible way to survive, and that is to be shut out completely from society. Their families feel an inner shame and are unable to shake off this albatross.
But, just as on one axis the taboo of disability rises, on the other side of the axis the anticipation of acceptance for disabled people is also rising.
It is heartening to note that a group of young graduates from the Primary Education Project (PEP) schools of Khowaja Goth are determined to inspire communities to stop treating disability as a taboo. They believe that people with disabilities are just as important as the other members of society.
These graduates have joined together from the 12 PEP schools of Khowaja Goth and formed a theatre group that serves to raise awareness on different social issues in rural Sindh. Their recent theatre on disability left the audience in complete awe.
A total of 1,066 students were present from the 12 schools of Khowaja Goth along with the community members. The theatre event became a talking point for the Khowaja Goth communities who were present.
Through the theatre programme, PEP aims to use young graduates to educate rural communities and motivate them to end practices that inhibit people and children from growing in their communities.
A PEP survey in five areas of rural Sindh shows that 379 people are suffering from disabilities. PEP aims to support these people through providing them ways to start small enterprises as well as motivate disabled students to join PEP schools.
Please pray for AsiaCMS co-mission partner LJC as she is involved with the PEP. LJC has to fight prejudices in the male-dominated society of Pakistan.
She also finds it challenging to introduce new initiatives for a project like PEP, which has a lot of potential, as Pakistanis generally do not believe in thinking out of the box.
Despite facing these challenges and funding issues, LJC's PEP team are persevering in the name of the Lord, believing that He will provide.