16 May

God's Love in My Journey to Motherhood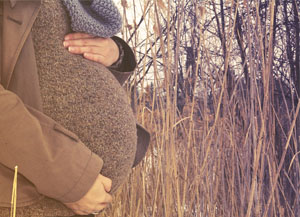 By Kathryn Aryal
Psalm 139:1-4 exclaimed: "O Lord, You have searched me and known me! You know when I sit and when I rise up… Even before a word is on my tongue, behold, O Lord, You know it altogether."
In the early weeks of my pregnancy, one of our young godmothers from church came and handed me a book entitled, "What to Expect When You're Expecting". The book was our first unexpected, welcome gift from the Lord. It made me realised God's love and care, helping me prepare for what's to come and letting me know He is right there to guide us in our journey.Then I was in the grocery one time wishing I can purchase some of the Pistachio nuts I saw. I wasn't sure which food I can or can't eat, so I decided to forgo the cravings until after our doctor's appointment.
A few days later, as Kumar was leaving the house, we saw a gift hanging on our door. Lo and behold, it was Pistachios— sent by the Lord all the way from the States from a friend who just wanted to give a pasalubong. How it warmed my heart to know we have a generous heavenly Father who would even provide for our tiniest needs or desire! As if His gifts and daily undeserved blessings are not enough, I received a package a week ago from a high school friend whom I haven't seen for a while and also happens to be expecting. Wrapped inside were these cute Baby Milestone Onesies (baby clothes) exactly what I was admiring on the internet just a few days before.
"How can He know!" was the phrase I kept repeating over and over to Kumar, overwhelmed and amazed to again experience the goodness and kindness of the Lord.
My friend's enclosed letter testifies and sums up what I was feeling. She wrote: "Every day I am amazed at God's presence throughout my pregnancy." Indeed we have a loving God who loves to give good gifts to His children!
As I reached my Second Trimester of pregnancy, I was also thankful to know my Maker and Father more. I am excited thinking how I will be able to share with Baby Aryal one day, how deep and wide and vast is the love of the Lord. He cares about the seemingly trivial things I think about… how much more other things that concern our hearts and lives.
Truly our God is worthy of worship — His stories of faithfulness, grace and loving-kindness ought to be told to our children and children's children!
Kathryn and her husband Kumar Aryal are AsiaCMS co-mission partners in the Philippines