13 Dec

Breaking taboo on education for girls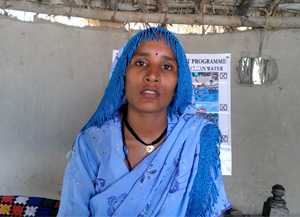 Reema lives in Sindh, Pakistan, and is part of the Women's Empowerment Programme under the Primary Education Project (PEP). Her journey is a great testimony of how a village girl overcame deep-rooted prejudice against education for girls to become a role model herself.
Now, she is the Area Coordinator for the WEP in a village. She fulfils her responsibility as mother to a five-month-old son and yet spends the first 15 days of each month visiting different communities in her village to talk about the importance of education for girls. On other days, she helps her mother in her embroidery work.
Being brought up in a culture where education was rare, her parents had to defy the opposition of villagers to send Reema to school. Today, when the same villagers see her working for others, they do realize that there are benefits and future in having an education.
"I feel lucky to be working for the WEP because being a part of the rural area it's not easy to advocate for education," Reema said.
Through training, the WEP develops skills in women to contribute to their community's growth and future, and inculcates a mindset that encourages the women to accomplish more than they can imagine.
"I never thought that one day I would be telling my story. The village where once I had to face contradictions because of going to school is now on its road to a different future, where there are hopes to possess more schools and a dream for education to prevail," Reema said.
Please pray for all staff who are taking new plans and trying to generate local funds for the project. Pray also for new donors for future projects of PEP. – LJC, PEP, Hyderabad, Sindh.