06 Sep

Asia Gateway 2017 to be held in June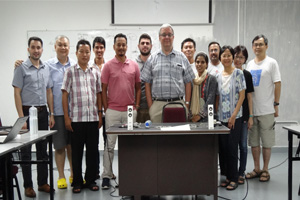 The Asia Gateway residential training for 2017 has been set for June 3 to 30. The intensive four-week programme will focus on training of trainers, and church and mission leaders.
Students will benefit from the multicultural community living and learning from a multicultural team of mission specialists and mentors.
The courses will include:
Crucial Issues in Asian Mission and Leadership
Mission of God in the Bible
Gospel, Culture and Integral Mission
Asian Religions and Interfaith Engagements
Applicants should possess a university degree in any discipline but those with ministry experience will be considered.
Students are required to pay for their programme fee of RM3,500, air tickets, travel insurance and visa fee.  Limited bursary for programme fee is available subject to approval.
More details and Application Form are available at www.asiagatewaytraining.net.
For enquiries, please email: asiagatewaymissions@gmail.com
Six countries represented at Asia Gateway 2016
The Asia Gateway 2016 residential training was successfully conducted in Malaysia with the participation of 16 students from six countries – Malaysia, Nepal, Myanmar, Pakistan, Singapore and Turkey.
Consistent with its objective of equipping workers for cross-cultural mission, the programme combined lectures and field trips to give students the best of academic training and exposure in a multi-faith and multi-cultural environment.
In between lessons, discussions and devotions, the students visited a mosque, a Hindu temple and a Buddhist temple, and participated in an interfaith dialogue.
Some of the students also went on a weekend exposure trip to Orang Asli settlements in Cameron Highlands, a five-hour drive from the seminary where they were based.
The six-week training, which ended on Aug 26, afforded students a unique experience of living and learning under one roof together with people from different cultures and backgrounds.
Two graduates of 2016 shared the impact of this training:
I would love to start a training programme like this to prepare people for cross-cultural missions.
I would recommend this training to my Bible teachers and church members, because they need to know more about mission of the church and culture.