25 May

7th Lausanne international conference begins in KL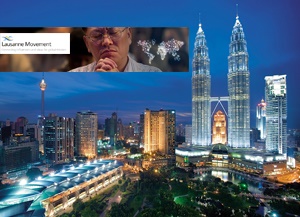 About 60 delegates from all five continents have gathered in Kuala Lumpur for the 7th Lausanne International Researchers' Conference, which Malaysia is hosting for the first time.
During the five-day conference, the delegates comprising researchers and theologians will also visit a religious research study centre in Petaling Jaya for a dialogue on interfaith issues in Malaysia.
As part of the international conference, AsiaCMS will host eight sessions of seminar presentations spread over today and tomorrow.
Plenary speakers at the conference include AsiaCMS Executive Director Dr Tan Kang San and Professor Ruth Powell, who is director of the National Church Life Survey, Sydney, Australia.
Kang San is also the official spokesperson for World Evangelical Alliance on Interfaith Issues and a member of Lausanne Theology Advisory Group and WEA Theology Group.
They will speak on the topics of 'Global Challenges' and 'Local Responses'. Breakout sessions will follow on the same two topics as well as 'Equipping for Mission'.
AsiaCMS will organise one breakout session, which will explore training models, regional leadership, emerging mission movements, and mission research.
Kang San, AsiaCMS Director of Training Lee Loun Ling and Rev Mark Oxbrow, the International Director of Faith2Share, UK, will be the panel members for the summary and panel discussion on collaboration in mission training.
Participants will also have ample time for informal networking during the conference, which was first held in Holland in 1987.
The conference is for those who are:
Early-career researchers with a passion to share findings and learn new research methods;
Leaders in a mission agency keen to understand and act strategically on research results;
Members of a research agency with important findings to disseminate;
Members of a denominational Research Department; and
Christians involved in social science or human science research
The conference is organised by Lausanne Movement, which connects influencers and ideas for global mission, with a vision of the gospel for every person, an evangelical church for every people, Christ-like leaders for every church, and kingdom impact in every sphere of society.