19 Apr

The harvest is plentiful but the workers are few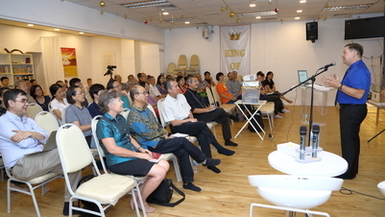 On 22 March 2017 in Kuala Lumpur, around seventy people from various churches and para-church organisations participated in a talk entitled "The Global Church Landscape: Trends in global Christianity, religion, & mission."
Despite the usual congestion in traffic on a weekday evening, many turned up early and the programme commenced on time.
The talk was organised by AsiaCMS in collaboration with Asia Gateway, Seminari Theoloji Malaysia, and the Malaysian Center for Global Mission.
Following on from AsiaCMS Executive Director Dr. Tan Kang San's introduction, the participants turned their attention to Dr. Todd M. Johnson as he began his presentation.
Being the Associate Professor of Global Christianity in Gordon-Conwell Theological Seminary, Dr. Johnson embarked on a brief but most stimulating overview of recent developments in global Christian movements both from a geographical and cultural standpoint.
Some interesting highlights included Dr. Johnson affirming the shift of Christian growth towards the global south and the east with the implication being a collaborative need to realize the vast potential of the Church in continents like Asia, Africa, and Latin America in providing theological and ministry input for contextual mission, discipleship and "globalised" community life.
Based on his research, Dr. Johnson also put forward the probability that both Christian and Muslim communities will play an increasingly prominent role in shaping global cultures. Arising from this, he stressed the subsequent need for meaningful engagement between community leaders of both faiths on a global scale.
Upon the conclusion of the presentation, the Director for STM's Centre for Religion and Society, Rev. Dr. Sivin Kit was given the task to respond from a Malaysian perspective. The highlight of his response was the emphasis that contact with communities of different faiths needed to go beyond "inter-faith contact" towards "in-depth engagement."
As we approached the end of the session, Rev. Datuk Dr. Daniel Ho was invited to give a summary reflection in response to Dr. Johnson and Rev. Dr. Kit's presentations. In light of the changing global landscape, he encouraged the participants to increasingly commit to strategic efforts in sharing the Gospel.
"…The harvest is plentiful but the labourers are few…"
May the Lord continue to equip the Malaysian Church for faithful witness to Jesus Christ and the Gospel in Malaysia, Asia, and the world.