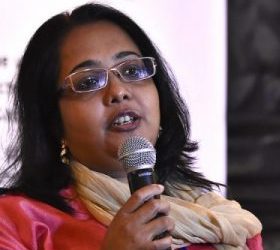 14 Jan

Caring for those who provide Care

"One cannot pour water from an empty jar into a glass." The work carried out by the child protection unit at LEADS, where our Co-Mission Partner, Nevedita, serves is dynamic and one of their greatest gifts is the team of dedicated, talented and flexible staff. They work tirelessly every day to uplift the lives of the children in their care.

However, the work-related needs and demands are often so high that the staffs are bound to compromise on their personal care, leading to stress and burnout – all that is too common among the helping professions. If this is not addressed appropriately it may even lead to staff turnover, which becomes a huge loss for the organization."

This was one of Nevedita's primary areas of concern and focus; not only for herself but also for those she leads. So this quarter, she helped to organize and conduct the Child Protection Staff Destress program, which not only ministered to the entire team but also provided avenues for each member to calibrate their own emotional well-being.

On a continual basis, Nevedita is also involved in:
Managing all aspects of LEADS' Child Protection Department (including therapy centres in Colombo, Badulla and Jaffna, Respite centre in Colombo and Jaffna, provision of technical support to all programs on Child Protection);
Ensuring compliance of Organisational Child Protection Policy, including promotional material;
Providing required technical & other management inputs for integration of child focus across the organisation;
Advocating for Child Protection and the best interests of the child;
Being a part of the LEADS senior management team and making inter-departmental decisions regarding child protection.
Please Pray:
New funding opportunities for the child protection work.
The Integration process should proceed well. Pray that God will guide the team so that they may be able to see the areas that they lack.
Pray that they will find favour in the eyes of the government officials so that they may help the children who come to them as best as they can.
For more information on Nevedita and her ministry, please read her profile here