02 Oct

Mission to the mountains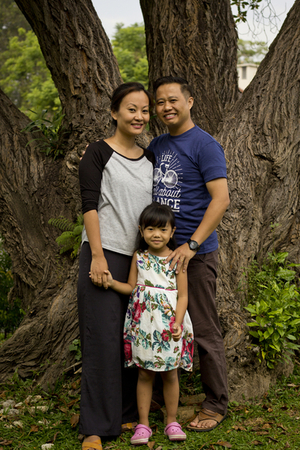 Written by Terence Lee
Seven people huddled in a small room, heads bowed in prayer, speaking a rhythmic tongue, they pray to God asking earnestly for missionaries to come to their home, a village nestled in the northern mountains of Thailand. This had been their practice month on month for years, earnestly seeking God and asking for the Gospel to come to the Lahu people.
After seven prodigious years in church ministry in urban India, Lolen and Susanne Longkumer had felt God call them to move them and their daughter – Jenti on to a new season. They had no idea where or when they were going to go, only that God had put it on their hearts that He was moving them on.
"When we met our pastor, he threw the question and invitation to us to go to Thailand to be missionaries. The first time, we tried to ignore it but the second time the pastor asked, and after that the call started to grow in us. So, after much prayer and tussling with God… We wanted to know if it was just from us or if it's really the call of God for us to go. It took us time," explains Lolen. "We didn't want to go just because our pastor sent us. We didn't want to go just because God sent us there. But we said, 'God, we cannot go there without feeling the love you feel for these people. How can we go there without feeling the love for these people?'"
Though it was unfortunate, circumstances didn't allow for Lolen and Susanne to visit Thailand beforehand. They knew that God had called them. In faith they had picked up their family and moved to Thailand, trusting God to give them the heart for the Lahu people when they arrived.
"We prayed hard for that, but nothing happened for a few months… So, we came and the first thing we did was to go up [to the mountains]. We went up to the village and we were there with the people and there was a meeting of the pastors and the leaders of the church, it was a very beautiful moment for us," recalls Susanne. At the end of the meeting, a pastor who had remained quiet throughout stood up and prayed, "God we thank you so much for sending us these missionaries. We have been praying for five years to have a missionary here in this village. There were seven of us who prayed together, but today there are just five. Two had died without having seen this day that the missionaries which we have prayed for have come to stay with us."
That was the turning point for Susanne and Lolen. God started to open their eyes and their hearts to the Lahu people from that day on. They've since been meeting with the students who joyfully greet them and are eager to learn everything that they can teach. They also spend time with the elderly who work the fields, stumbling through conversation with the aid of an ancient dictionary. Even Jenti has found a few likeminded children and spends her days between home school and playing in the mountains.
This year they plan on mastering the Laho language, move up to their brand-new house that is being built, and start to be more active in their role as Bible teachers in the local training centre – Lahu Training Centre. They will be part of a teaching programme, taking in young people from the Lahu community, spread over Thailand, Myanmar and China. They hope to bring them through a three year training programme.
Psalm 37 says: "Commit your way to the Lord; trust in him and he will do this" (NIV), this has been the Bible passage that Lolen and Susanne orientated themselves around to live out. "It's amazing to see how God works, and if only that we learn to obey his will. We are learning that, what obedience does in our lives and living in the will of God."
Pray for the Longkumer family, pray that they would continue to receive God's grace in this period of settlement.
Pray that Jenti, their daughter, would find joy and fulfilment in the village.
Pray also for them as they learn both Thai and the Lahu language at the same time.
Lolen, Susanne, and Jenti recently participated in Asia Gateway Training 2017, a month-long course organised by AsiaCMS in collaboration with Seminari Theoloji Malaysia, the Anglican Diocese of West Malaysia, the Methodist Church in Malaysia, Operation Mobilisation, Overseas Missionary Fellowship, Interserve, and Serving in Mission.