05 Jul

God works in surprising ways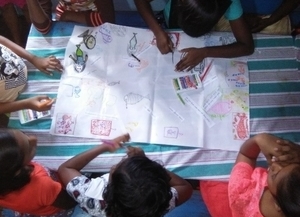 I would like to thank and praise God for his grace and his hand in all that we do. In partnership with one of our main donors, we had to organise and train volunteers who could go and collect facts about children living in CDC's (Child Development Centres) all throughout the island.
The challenge was to receive permission from the relevant government officers in whose hearts the Lord helped us find grace. Thereafter we were able to carry out this work from Trincomalee to Galle but permission for Colombo was being delayed. God works in surprising ways and when we were ready to hand over the data collected, we received permission to gather data for Colombo too. God enabled us to organize volunteers and staff, making it possible for us to give the final report in a timely manner.
The family follow-up officers of LEADS were finding it difficult due to their caseload since some of the referrals of children were for educational support as well. We brought this before God and prayed that the right children will be sent to us for help and we could see the change.
Please pray for God's wisdom to lead the team and provide the needed support for the staff.
— Nevedita Jeevabalan, Sri Lanka, Co-MP with AsiaCMS