20 Oct

From Everest to the pulpit: A trekking guide's journey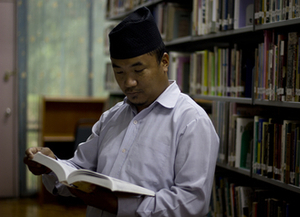 Written by Terence Lee
Ascending Everest is many mountaineers' dream. For some it is the apex of their journey, to stand at the roof of the world and, for one moment, look down and survey the rest of humanity. Needless to say it is a bucket list item for many people. For Gopal, however, it's his day job.
Gopal Tamil is a trekking guide. One of many who, weekly, would make the walk to base camp and beyond, whilst carrying someone else's ascent equipment. To him, Everest stands not so much as a challenge, but rather as livelihood.
When he's not busy walking and guiding people up mountains, he has a day job as a training coordinator in Butwal, Nepal equipping a new generation of Christian leaders. Each year, the training centre runs two, three-month long residential training programmes where up to 15 people can attend at a time. They would come to the centre, stay there for three months, and in that time learn the basics of grass roots leadership, practical ministry techniques and the foundation of theology.
Remarkably Gopal is witnessing 60-70 percent of his graduates enter into ministry in one degree or another. "Some are pastors, some are Sunday school teachers and some are house fellowship group leaders. They are becoming more involved in ministry… That gives me the greatest encouragement, I expend my life for them and they are changing." Says Gopal. Beaming with pride he continues, "One student was sharing 'I came in training here. Before, when I stand in front of people, I shake the pulpit, because I didn't have practice. But after the training, we are able to shake the people's hearts!'"
While being a largely Hindu country, Nepal has a rapidly growing Christian community and they find themselves in need of leaders who are trained and equipped to lead churches, run ministries and shepherd congregations. With many new churches and congregations springing up, it is often not surprising to find out some pastors themselves are only months, not years, into their Christian journey.
Churches and Christians face indirect persecution as well, where they are accused of abandoning Nepali customs and culture, and treated as foreigners for forgoing their Hindu faith. It is especially important that firm and biblically grounded leaders are there to help guide a young church in the face of cultural pressures to conform, as well as a rising trend towards secularism.
"I completely focus on the training. Before joining in the leadership programme I often did that [trekking guide], but now I only focus on training," explains Gopal. Although he does enjoy visiting Everest Base Camp and walking around the Annapurna, he admits, "I look at some of my graduated students and what they do, and after the training how they are doing, character wise and they are more like a leader in the ministry. Seeing that makes me very much happy, my role is one of importance."
Please continue to lift up Gopal and his training ministry in prayer. Pray that students will continue to meet God in these three-month long programmes and be inspired to follow Him. Pray also for the training centre's financial needs. While they have a waiting list of students wishing to come and train, they have limited facilities to accommodate them, necessitating a cap of 15 students per intake.
Gopal recently participated in Asia Gateway Training 2017, a month-long course organised by AsiaCMS in collaboration with Seminari Theoloji Malaysia, the Anglican Diocese of West Malaysia, the Methodist Church in Malaysia, Operation Mobilisation, Overseas Missionary Fellowship, Interserve, and Serving in Mission.