06 Dec

Challenging yet fulfilling experience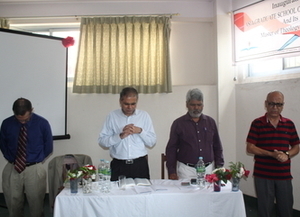 It was a challenging and hectic third quarter, but God is good. In the three months, I taught two modules to our Master of Divinity (MDiv) and Master of Theology (MTh) students and one module at the Kathmandu Institute of Theology. Teaching three modules was a fulfilling experience.

By God's grace we launched the much-awaited MTh programme in two disciplines, namely Intercultural Studies and Practical Theology.
The new academic year began on 2 July with the admission of nine MDiv and eleven MTh students. We have received an intake of very good and experienced students. We praise God for that.
It is especially encouraging to hear testimonies on what God has done through the Nepal Theological Academy (NTA).
Donash, one of my students, said God has used NTA to shape and equip him for the glory of God.
"I'm thankful to God and my teachers who have committed their lives to the accurate teaching of God's word. My brothers and sisters in Christ and I can now go about our lives and ministry with greater confidence based on the knowledge and training acquired through NTA."
Another student, Niroj, said: "As a student of the MDiv programme, I am able to discover many truths of the Bible and many of my previously unanswered questions are being addressed."
Please pray that the Lord will provide for the needs of three of our member institutions as they are erecting new buildings to improve their infrastructure.
— Abraham Saggu, Kathmandu, Co-MP with AsiaCMS.