01 Aug

Building a foundation for faith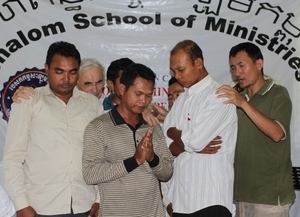 God is good. Apart from my regular activities, I had the privilege of conducting the "Building a Foundation for Faith" programme in several provinces for about 100 people in the second quarter.
The extension programme of the Shalom School of Ministries, which was taken to Preyveng, Battambang, Kompong Chhnang, Kompong Speu, Kompong Thom, Takeo and Ratanakkiri, benefited the participants immensely by enhancing their knowledge and understanding of the Bible.One of them, Pastor Yany, said: "I was in the Bible school for four years in Phnom Penh but I haven't learnt about this."
"Now I am clearer about the whole story of the Bible. It is easy to see God's plan for salvation through all the history from the Old Testament until New Testament. God is so faithful to us."
All the pastors who attended the programme would like us to go back and conduct the second level training. This is the best testimony that the programme is relevant to their ministry.
From June 20 to 29, the Shalom School of Ministries also gathered all its pastors together for another training session. We had the privilege to learn from Pastor Basil, who was also with us last year.
This time around he taught on pastoral leadership (1 Timothy), which we found so relevant to our    daily work. He was sharing his gift of teaching and real-life experience as a pastor of over 53 years.
We thank the Lord for providing us with this wonderful and loving teacher, who retired as a pastor of the Carey Baptist Church in the UK. His teaching and sharing have prompted many of the pastors to reflect on their own struggles and the ways to strengthen our church.
Please pray for journey mercies and that we could have our own vehicle to travel to different places in our ministry work.
— Chhinho Saing, Cambodia, Co-MP with AsiaCMS