22 Aug

Praise God for His faithfulness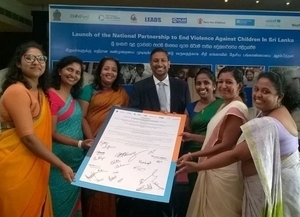 I would like to thank and praise God for his grace and his hand in all that we do. I am particularly glad for the opportunity to be a part of NPEVAC (National Partnership to End Violence Against Children in Sri Lanka).
NPEVAC is a new initiative to end violence against children by 2030; recently launched as part of a bold, new collaborative partnership between the government, UN agencies, international organisations, civil society, faith groups, the private sector, the media, children, and other key stakeholders. The launch was held on June 1 with the participation of many government officials including the Minister for Women and Children. I was able to contribute through providing input and support although LEADS is a  relatively small organisation among many other partners.
I also thank God for giving me a chance to be a part of the staff retreat. The focus of the retreat was to promote collaborative engagement among staff and I returned with new ideas and perspectives.
Finally, I thank God that in spite of a busy schedule, I was able to organise the certificate ceremony and book launch of "Lighting a Lamp." These workshops were held last year and we were able to evaluate the benefit of organising such workshops. We came to know that wardens were implementing what they gained in the workshops and came back with queries and inquiries for further help.
Please pray for God's wisdom to lead the team and provide the needed support for the staff. Also pray for favour in the eyes of government officers.
— Nevedita Jeevabalan, Sri Lanka, Co-MP with AsiaCMS