04 Oct

Communities of different faiths join hands in education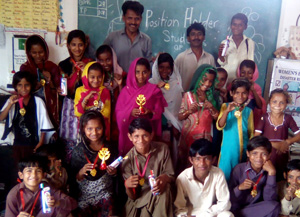 "I don't want the children of my community to work all day in fields. I want them to be educated."
This is the mantra of Mizoram (not his real name), who opened a school in a community hall a few years back with an enrolment of 50 children. He belongs to a Hindu community in rural Pakistan where education had been lacking for many years.
Being the educated one in his family, Mizoram decided to talk with the School Management Committee (SMC) of Primary Education Project (PEP) in hopes of finding a solution to the problem. After reviewing what Mizoram was doing, PEP decided to help him run a proper school for his community.
For Mizoram, this marked the beginning of a big future!
Mizoram was appointed as a PEP teacher in 2013 and attended the specialised Teacher Training provided by PEP. After the teacher training, Mizoram decided to build a separate school and motivated his community to contribute something in doing so.
The community acknowledged his decision because of what he had learnt during the teacher training, and he became successful in building a proper, sustainable school in a village in Mirpurkhas.
In its early days, the school was merely constructed with wood, but without a ceiling. The children used to attend classes in an open-top room, which was not appropriate for the long term.
The landlord later provided Mizoram with 10 benches, a table and chair, a blackboard, a 4ft pipe for clean water and a roof for the classroom. Now, the landlord has promised Mizoram to build another classroom due to the increasing number of students.
The landlord is from a Muslim community who has authority over the Hindus living in his village. But Mizoram said the landlord has been very supportive of his initiative to develop the local community through education.
The landlord is proud of the school his village owns and what Mizoram has been doing to support it.
It is rare to find such a relationship as that of Mizoram and his landlord.
Due to cultural and religious differences, it is usually hard to maintain an understanding between communities of different faiths. PEP ensures that all faith communities are motivated towards peace with each other as well as having equal opportunities to receive quality education.
AsiaCMS co-mission partner LJC is coordinator of the PEP.