04 May

Grace upon Grace: The story of a missionary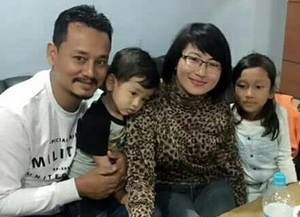 It was like a page out of John 3. But the scene was thousands of miles from where Nicodemus encountered Jesus. And it was an evangelist sharing the truth with a rural, teenage girl studying in the city of Yangon.
Grace Magar, born and raised in a Kachin village in northern Myanmar, had just enrolled in a university when she chanced upon a local missionary. Despite having attended the village church from her childhood, Grace was taken aback when the missionary asked, "Are you born again?"
"Oh, I'm already a Christian, and I need to be born again?" the then 16-year-old Grace responded.
The missionary said with a smile, "If God takes you away tonight, are you sure you would be in heaven?"
Out of innocent pride and also to keep the missionary at bay, Grace insisted that she was sure of salvation and told him to go and evangelise the non-believers.
"But in my heart there was no peace. I thought by works I could go to heaven. I could not sleep the whole night," Grace recalled.
By God's grace, the missionary followed up with weekly visits, and on one occasion Grace received Jesus Christ as her personal saviour when the missionary shared Ephesians 2:8 about sinners being saved by grace through faith.
That marked the start of an eventful journey. Grace has had to deal with various challenges along the way, but has delighted in the goodness of God. She even found her life partner, Milan Magar, after dedicating her life to Kingdom work.
"Even before I met Milan, I had sensed God was already calling me into full-time ministry," she said.
Grace was introduced to mission work during her university days. After completing her Bachelor of Science in Geology, she went to India for her MDiv, where she met Milan.
"I didn't go there to look for a partner, but did ask God to show me my life partner, someone with the same burden, a mission-minded man.
"I felt the burden of doing something for God among the Myanmar people, to win souls in this predominantly Buddhist country," she said.
After graduation, they returned to their respective countries – Grace to Myanmar and Milan to Nepal – but kept in touch via gmail (gtalk). In 2007, she accepted Milan's marriage proposal and they got married, driven by their desire to serve in mission together.
Cross-cultural challenges
Grace accompanied Milan when he enrolled for MDiv at IGSL in Manila, and it was there that she further experienced the faithfulness of God
Just one month after arrival in Manila, Grace was diagnosed with polyps in both her ovaries and uterus. Worse, she could not afford to go for surgery.
Her only option was to go on medication but after two months of taking pills, the side-effects were almost crippling.
"My whole body felt really weak and most of the time I could not walk properly. I had to look after a young daughter and I felt horrible. I started asking God why I had to go through this," Grace said. She had even contemplated going back to her hometown to rest then.
It was a period when she felt the "silence" of God but continued to trust Him, believing there is a purpose in the trials she was facing.
"Every morning in prayer I would declare that I'm healed in Jesus' name," she said.
After three years in Manila, Grace was finally delivered from her suffering and pain. When she went for her check-up one day, her doctor was surprised to find the tumours had gone without surgery.
"Your God is a real healer, and now you can have a child," the doctor told Grace.
True enough, Grace found herself pregnant with her second child at the end of her stay in Manila.
Grace said that painful episode had taught her a lot about parenting and her relationship with her husband. She said that in a cross-culture context, it was especially important to stay God-centred and be attuned to His ways.
"Now when I mentor women with struggles and stress, I can share effectively with them from my experience. God had put me through that season of challenges to test me and equip me," Grace added.
Grace managed to pick up the Nepali language within two years of doing women's ministry in support of her husband, who is an AsiaCMS Co-Mission partner.
"Speaking in the native language is important in cross-culture mission. I mingled with them and learned. I can speak in Nepali language but can't yet read the (Nepali) Bible," she said.
Grace Magar is an AsiaCMS Co-Mission Partner based in Itahari, Nepal