29 Aug

Human trafficking an ugly aftershock in Nepal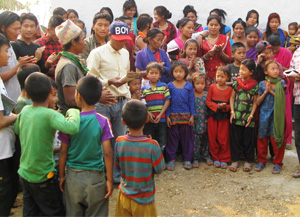 Human trafficking is one of the major social problems to have emerged from the devastating earthquake in Nepal on April 25 last year. News of girls and children disappearing from earthquake-hit areas in remote parts of the country has become common.
The poor and helpless victims were compelled to accept the proposals of strangers who often lured them with the prospect of good jobs, better life and marriage. Some also fell prey to the promise of getting a good education in an orphanage.
Given this heart-rending situation, my team considered it a privilege to visit remote areas of the Kavre, Sindhupalchok and Makawanpur districts recently to raise awareness on the menace of trafficking in girls and children.
We conducted door-to-door awareness programmes, family counselling and meetings with local leaders to educate them on this social problem. The villagers were receptive to our initiatives and were keen to learn about the root causes and consequences of human trafficking. It was encouraging to hear the questions they raised.
"We will be very careful and make others be careful with strangers," said Kumar Shah, a local leader of Kavre district.
Please pray for restoration of houses and lives wrecked by the earthquake and for Christian leaders to be united in tackling the many challenges facing the church in Nepal. – Bhibin Shakya, AsiaCMS co-mission partner, Kathmandu